Nebezpečný idiotizmus o zdravej výžive
Nikdy predtým sme neboli vystavení takej záplave informácií o jedle a zdraví ako dnes. Diéta na úpravu črevnej flóry, paleo stravovanie, bezlepková diéta, konšpiračné teórie o cukre... Akokoľvek znejú niektoré bizarne a dokonca môžu byť zdraviu škodlivé, sme náchylní v ich účinok veriť a neváhame ich vyskúšať.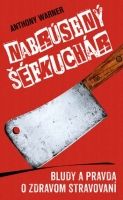 Profesionálny šéfkuchár a bloger Anthony Warner preto oslovil tím psychiatrov, behaviorálnych ekonómov, dietológov a expertov z oblasti potravinárskej výroby, aby spolu s nimi odhalil, prečo toľko praktických a inteligentných ľudí podľahne rôznym bláznivým výstrelkom v stravovaní.
Neváha pritom použiť aj tvrdé slová a na konci knihy má čitateľ k dispozícii všetko potrebné, aby sa nedal pomýliť stravovacími šarlatánmi.
"V tejto knihe nenájdete žiaden zoznam pravidiel, ktorými sa musíte riadiť, ak chcete šťastne a zdravo žiť. Nebudem zostavovať zoznamy potravín, ktoré buď spôsobujú, alebo liečia rakovinu. Ak táto kniha splní svoj účel, na jej konci budete o vede o potravinách a stravovaní vedieť dokonca ešte menej ako na začiatku. Alebo aspoň menej, než ste si mysleli, že viete," tvrdí autor Anthony Warner.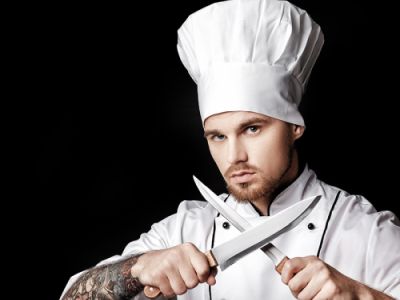 V knihe Nabrúsený šéfkuchár totiž píše o rôznych pavedách, mýtoch a bludoch, ktoré sa šíria okolo nás. Neváha sa pustiť do herečky Gwyneth Paltrowovej alebo instagramových hviezdičiek, ktoré získali pocit, že môžu hovoriť o zdravej strave. Bez vzdelania, kritického myslenie a overovania.
Je to kniha, ktorá upozorňuje na škody, ktoré napáchali nezmysly týkajúce sa zdravej stravy. Detox, čisté stravovanie, kokosový olej.... prečítajte si túto knihu. Nabrúsený šéfkuchár je naozaj ostrý a nabrúsený.
Warner krok za krokom odhaľuje podstatu bláznivých módnych trendov v stravovaní, vyvracia pavedecké bludy týkajúce sa jedla a poukazuje na podvrhy šarlatánov propagujúcich tie najčudnejšie diéty a kúry.
Anthony Warner je profesionálny šéfkuchár, vyštudovaný biochemik, bloger a pravidelný prispievateľ do prestížneho časopisu New Scientist.
Prečítajte si úryvok z knihy Nabrúsený šéfkuchár:
Nabrúsený šéfkuchár sa prvýkrát verejnosti predstavil v roku 2016, no jeho zrod možno datovať o pár rokov skôr, keď som sa zúčastnil na podujatí o zdravej výžive v jednom veľkom londýnskom konferenčnom centre. Tam sa konala aj veľká panelová diskusia na tému Čo znamená zdravá strava? Všimol som si, že má vystúpiť vtedy ešte viac-menej neznáma blogerka a budúca instagramová hviezda venujúca sa zdravej životospráve. Mal som o nej a o trende čistého stravovania, ktorý propagovala, zopár hmlistých informácií, preto ma zaujímalo, s čím príde. Dokonca ani taký ignorant a technofób ako ja nemôže prehliadať skutočnosť, že čoraz populárnejšie online hviezdy majú v tejto informačnej dobe potenciál výrazne ovplyvniť správanie a názory príslušníkov generácie mileniálov.
Množstvo týchto nových osobností sa venovalo práve zdravej výžive a to na mňa pôsobilo vcelku povzbudivo.
Netrvalo však dlho a začalo ma znepokojovať, aké nezodpovedné rady niektorí z týchto ľudí šíria. Napriek tomu, že spomínaná blogerka bola sympatická, inteligentná, dokonca v určitých oblastiach aj dostatočne informovaná, niektoré jej tvrdenia boli vskutku zvláštne. Na jednej strane vravela, že všetko jedlo uvarené doma je jednoznačne zdravšie ako jedlo pochádzajúce z továrne.
Očakával som, že toto tvrdenie mnohých prítomných zdvihne zo stoličiek, keďže išlo o podujatie organizované potravinárskym priemyslom. Keď som sa však obzrel okolo seba, uvidel som, ako múdro sa tváriace publikum v reakcii na jej argumenty súhlasne prikyvuje. Na moment som mal pocit, že som sa ocitol v nejakom sci-fi filme z päťdesiatych rokov v dystopickej budúcnosti, kde ja ako jediný z davu rozoznám falošného proroka.
Z podujatia som odchádzal mierne zmätený, no nie vyslovene nabrúsený. Niektoré zvláštne názory propagátorov hnutia za čisté stravovanie ma zaujali, a tak som začal študovať. Čím viac som čítal, tým som bol skeptickejší voči totálnemu nepochopeniu vedy a absolútnym nezmyslom, na ktorých sú založené podobné trendy.
Vtedy som sa vydal na cestu do sveta čudnej pavedy, tvrdošijného odmietania všetkého moderného a nebezpečného idiotizmu, ktoré vládnu diskusiám o zdravej výžive.
Milan Buno, literárny publicista
Pridať komentár
Komentáre